Ease your payroll burden in one-click
A HR & Payroll Mnagement system allows you to keep track of all your employees, workers and information about them and benefits your organization by letting it track plenty of things including employee performances, payroll, time, leaves and much more. It may help you to revolutionize your workplace and helps you make a better decision.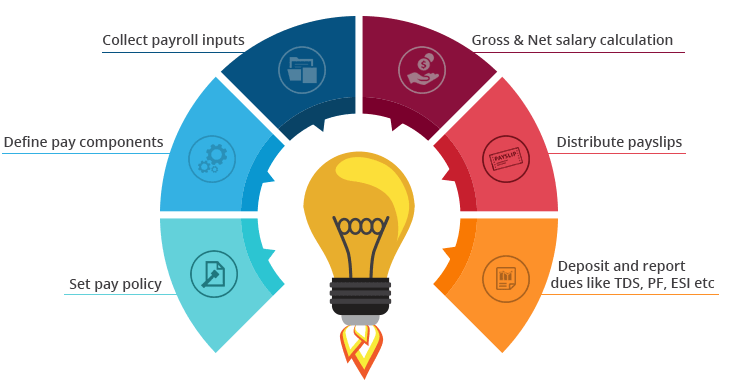 HR & Payroll Process
Settings
We provide exclusive custom settings to set product small things as per different locations you have, without breaking your standard process.
Masters
Configurable masters to the last extent with a deep understanding of complex organizational structures, processes & workflows
Employee Management
Maintain employee End-To-End details from hire to retire. Employee levels, salary, leaves and many more..
Attendance Management
Attendance processing is effective only when it's real-time. Employees & managers need to fix issues ASAP and not at the end of the month. HR & Payroll attendance management system handles all aspects with simplicity and efficiency as well as for month end we give you monthly attendance option in case required.
Leave Management
When your company's leave policy is enforced consistently, it improves transparency & employee satisfaction. HR & Payroll leave management software automates everything from leave accounting, grants, to period closing activities.
Salary Generation
System lets you manage all your HR holds like salary generation, attendance, leaves, pf, etc. All while reducing costs, saving time, and aligning your HR efforts.
Pay-slip Generation
We generate accurate payslips for employee as soon as salary generated, for every month.
Reports
HR & Payroll management delivers custom reports that help organizations take key HR decisions, late-coming, overtime, ESIC report, CTC report etc..
Dashboard
The day become great when daily important things seen at one place in a glance, for sake of great day we have dasboard which explain HR daily task in simple &effective way.
Important Features
Attendance Management
- Muster roll simplified
Cloud based management
Smart time tracking
Highly Configurable
Configurable to the last extent with a deep understanding of complex organizational structures, processes & workflows
Formula based Earning & Deduction
- Intelligence Delivered!
Intuitive tax and standard deduction
Error-free salary calculation
Benefits calculations
24/7 Access from anywhere & any device
- Payroll on the go!
Unmatched mobility
Unparalleled flexibility